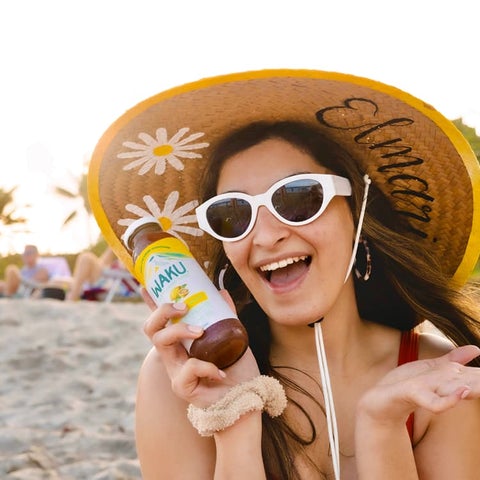 Why You Should Add Waku To Your New Year Resolutions
Probably you've had enough with all the content and blog posts about the New Year resolutions; however, we are about to share with you one that probably it's easier to apply than most of the other resolutions out there. 
It's simple: Drink a bottle of Waku a day. Why should you add this resolution to your beloved list? Well, behind a bottle of Waku hides the remedy for ultimate gut-health and therefore, general wellbeing. 
So if you really want to step up your game and be healthier and happier this year, include a Waku plant base tonic and simply relax. We told you, this one is pretty simple. 
Why Waku? 
Well, for starters, ​​Waku is based on a traditional recipe created centuries ago in the Andes Mountains of Ecuador. It's locally known as "horchata lojana", and it is consumed daily with a meal because of the digestive benefits and its great taste.
15 of the herbs have anti-inflammatory properties, 13 have digestive attributes, and 12 have analgesic benefits. Together, they help to prevent inflammation and soothe the digestive system, helping to bring balance to your gut and wellbeing to your body.
Read on to learn a bit more about each one of the 20 herbs and flowers that make up each of our tonics. All our herbs are organic and sourced directly from smallholder farmer communities in the Andes Mountains of Ecuador.
What super herbs do we use? 

White Basil 
White basil has historically been used to treat stomach issues, and can help with loss of appetite.
 
Black Basil
With anti-inflammatory and antioxidant properties, black basil can help tackle stress, anxiety, and inflammation all at once.
Chamomile
Chamomile is known for its soothing and anti-inflammatory properties, as it has been said to reduce acidity in the stomach and prevent nausea.
Spearmint
Similar to mint, spearmint has a bright flavor with calming and anti-inflammatory benefits to the body and the digestive system.
Starflower
Star Flowers, also known as Borage, have been used to treat many gastrointestinal or even cardiovascular disorders.
Apple Geranium
From the same family as white malva, apple geranium functions similarly, aiding in soothing irritation through its anti-inflammatory benefits.
Fennel
Fennel is a great source of vitamin B-6, which can help in boosting energy & metabolism.
Red Root Amaranth
Red root amaranth provides an amazing source of plant protein, anti-inflammatory benefits, and gives Waku its distinctive color!
Sweet Oregano
Sweet oregano has been used for centuries both in cooking and for medicinal purposes, with active ingredients that have helped to treat infection.
Lemongrass
Lemongrass has active ingredients known to relieve pain and inflammation through their antioxidant properties.
Escanel
Escancel has been used for centuries to fight various diseases, even wound healing, due to its anti-inflammatory properties.
Lemon Verbena
Lemon Verbena has typically been used to treat many types of digestive disorders, joint pain, and even skin conditions. 
Lemon Balm
Did you know lemon balm is a member of the mint family? This anti-inflammatory herb can provide benefits not only to your digestive tract, but also to your nervous system and your liver.
Congona
Congona provides analgesic effects; used medicinally, it can soothe the digestive system.
Malva Essence
Malva essence is used to optimize digestive function, improve sleep, and even treat headaches with its anti-inflammatory properties.
White Malva
White Malva has anti-inflammatory benefits that is used to treat irritation. It also benefits the stomach and bladder.
Flaxseed
Flaxseed contains multiple vitamins and minerals, and the anti-inflammatory benefits of the leaves of the plant help to improve your digestive health.
Roses, Violets and Carnations
Roses, violets, and carnations are not only a beautiful addition to any bouquet; these flower petals also bring anti-inflammatory benefits with a beautiful aroma.