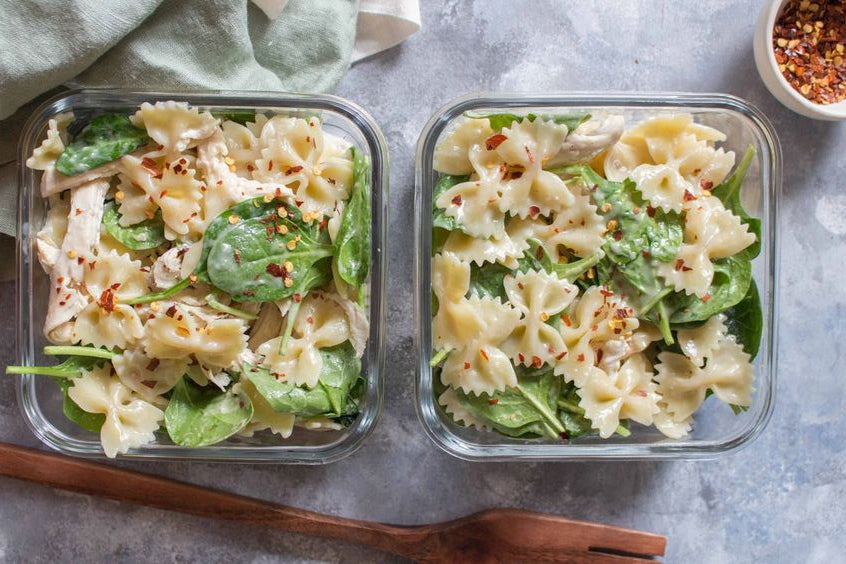 A Waku Guide: How to meal prep
Meal prepping is a very useful task that will help you maintain a balanced and organized eating schedule by preparing your meals ahead of time. Not only will this save you a lot of time in the future, it will also keep you on track with your diet goals by thinking ahead of time what you should eat and not what is easier or faster to make at the moment.
Having pre-cooked meals can also reduce portion size and help balance your stress eating, plus your drive to eat easy, fast or frozen foods that contain way too much preservatives. By doing this, you will avoid unhealthy options that pop up especially when you are overwhelmed or very tired. In the long run, meal prepping will lead to more nutritious meal choices.
There are different ways to meal prep and you can find the one that suits your lifestyle best. On this occasion, Waku wants to share with you these methods, hacks and tips so that you can get started on your very own meal prepping journey, and make the most of it to stay on track with your health and wellness goals!
Types of Meal Preps:
1. Batch Cooking
Cook a large batch of a specific recipe and freeze it until you want to eat it and then you will just have to defrost it in the microwave. You should split it into different containers so that you can grab one to go each time you want to eat it instead of trying to grab a small portion from a big container. This could be cooked on a weekend and it's very helpful for lunch and dinner meals.
2. Individually Portioned Meals
Cook fresh and diverse meals and divide them into individual grab-and-go portions to be refrigerated and eaten over the week. This will help you specially if you need to take your lunch to go or simply don't have enough time throughout the day to cook. You could make a base for all the foods and then vary with the ingredients on top, seasoning and side dishes such as salads or salted vegetables.
3. Prepare Ingredients
Cut, chop, peel and slice different foods beforehand and use those ingredients later on just to drop them on a pan or bowl and cook faster. Prepping the ingredients required for specific meals ahead of time will help you cut down the cooking time you spend in the kitchen. 
You can choose any of these methods or even vary between them depending on what works best for you according to your goals and your daily routine. Keep in mind that all of these meal prepping methods require you to either freeze or store the food in the fridge so that you can keep the ingredients cool and prevent them from going bad for as long as it takes for you to eat them.
Things to keep in mind when meal prepping:
1. It is different for everyone
This does not work on every lifestyle or diet, some ingredients can't be kept fresh for more than a day after you cut or cook them. Also, some people might find the meals repetitive, boring or simple. That is why, you should take the meal prep method that you think will work best for you and then adapt it to your routine, goals and liking. Experiment and find what works best for you!
2. Choose your foods wisely
Cooked meat, roasted vegetables, soups, sauces, nuts and sturdy raw vegetables make good bases for meal prep recipes. But you can't meal-prep everything. Soft vegetables, cut fruit and crunchy food like crackers will only get softer in your refrigerator, making them less ideal choices as main ingredients for meal prepping. You should also think about whether you can reheat your food and where you are going to do it. Consider recipes that you can enjoy cold or gently reheat so you don't risk damaging fats and proteins in it.
3. Be prepared and be creative
If you are willing to start meal prepping, you must own reusable, airtight food storage containers that will keep your meals stored and fresh for longer. Choose the ones that will work best for you and the meals you are planning to make. Also, try to vary their size and shape so that you are forced to prepare different meals and the whole experience doesn't get boring. Finally, try to have fun and be creative with the side dishes, seasonings, dressings and snacks!
We hope this information and tips were useful, hopefully you start meal prepping and see the benefits of it right away! Let us know if this blog was useful or if you have more information you would like to share with us and the Waku tribe.
Read you soon!
References
How to Meal Prep — A Beginner's Guide
A Beginner's Guide on How to Meal Prep Like a Pro
How to Meal Prep: A Beginners Guide for Perfect Make-Ahead Meals