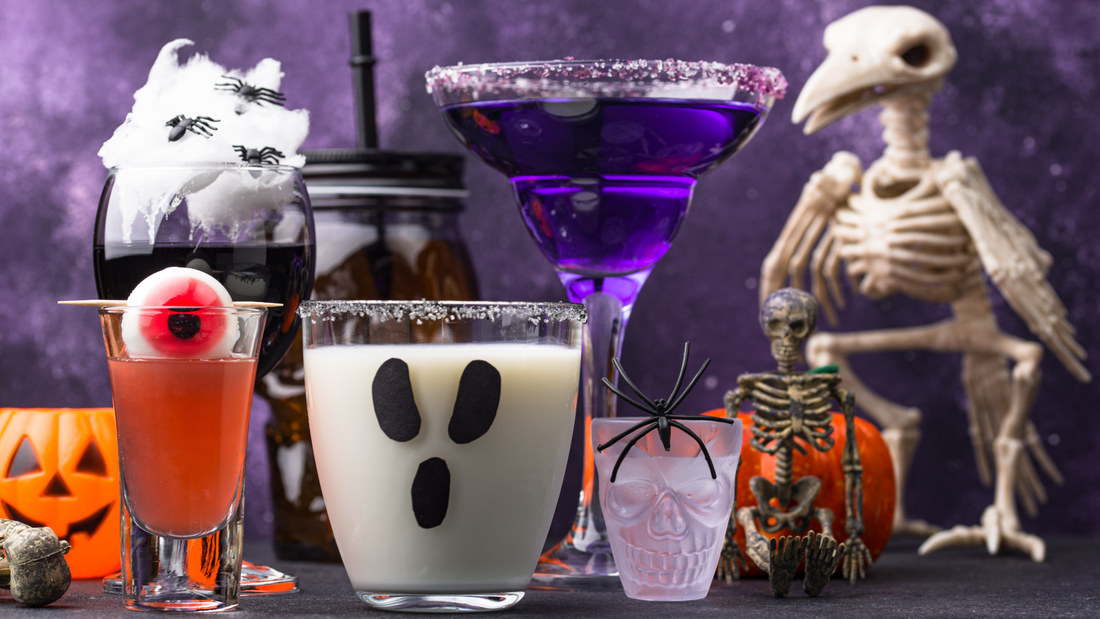 A Halloween Series of Waku Drinks
Be this seasons' sensation with these scary-good recipes. The best thing about all of these drinks is that they have a healthy ingredient and sweet flavor, so you won't have to worry about calories and can get to enjoy a delicious adult treat this Halloween. We've searched the web and found a couple of interesting and inspiring recipes that must be shared, we've just added our "Waku touch". So keep in mind while reading this blog that we don't take credit for any of this spooky creations and we invite you to check out the original ones as well in the following links: Top 13 Halloween Cocktails & Drinks - 45 Spooky Halloween Cocktails That'll Get the Ghouls Feeling Good - 15 Non Alcoholic Halloween Drinks for Eerie Enjoyment
Ok, what we came here for. Here's our top selection of Halloween Cocktails and Mocktails to prepare for your scary adult gathering or your kids' costume party. Enjoy!
Gut Healthy Cider Sidecar (Cocktail)
Transform apple cider into a grownup treat with this easy cocktail recipe.
You will need:
- 2 oz. fresh apple cider

- 2 oz. cognac

- 1 oz. Cointreau

- 1 oz. Lemon Waku

- strip of lemon zest and brandied cherries, for serving
How to prepare:
Place cider, cognac, Cointreau, and Lemon Waku in a cocktail shaker and top with ice. Shake until the shaker starts to frost and feels very cold to the touch, 20 to 30 seconds. Strain into a coupe and top with zest and brandied cherries.
Little Vampire Waku Punch (Mocktail)
For little vampires and those who want to have other wits about them, this spooky mocktail Halloween recipe will check all of the boxes. This will make approximately 12 servings.
You will need:
- Rubber glove and cranberry juice for ice cube hand

- 4 cups Passion fruit Waku

- 5 cups mango juice

- 1 cup orange juice

- ½ cup grenadine

- ½ cup Lemon Waku

- Ice

- Orange slices for garnish
How to prepare:
Fill a rubber glove with cranberry juice, tying shut and placing in the freezer. Allow to freeze overnight. In a large punch bowl, add the Passion fruit Waku, mango juice, orange juice, grenadine, and Lemon Waku. Stir to mix. Just before serving, peel the glove from the ice cube hand (give the glove a quick dip in hot water to aid in removal) and add the hand to the punch. Garnish with orange slices and serve in rocks glasses over fresh ice.
Replenishing Zombie Cocktail (cocktail)
You'll need ten Zombie cocktail ingredients to make this drink, but it's worth it! This fun rum cocktail is tropical, fruity…and potent. This drink packs a potent punch, with four types of rum, three fruit juices and two fruit syrups. It's totally unnecessary…but then again, that makes it more fun! While it's got a 1970's vibe, this cocktail actually comes from the 1930's and was one of the first of its kind. Here's what you need to know about the special ingredients and how to whip up this special mixed drink!
You will need:
- White rum

- Spiced rum

- Dark rum

- 151 rum (optional)

- Fresh lime juice

- Lemon Waku

- Pineapple juice

- Passion fruit Waku

- Orange bitters

- Grenadine
How to prepare:
Phew, that was a lot of ingredients! Once you've compiled everything, it's smooth sailing. It just takes a while to measure out the 10 ingredients. Shake them up, then float the grenadine and rum. Here's what to do:
Shake in a cocktail shaker. Place all ingredients except the 151 rum and grenadine in a cocktail shaker, add ice, and shake. (Don't have one? Use a mason jar!) Strain it into a glass.
Add the grenadine and 151 rum. Pour the grenadine into the drink and it will settle to the bottom. Pour the 151 rum on top of the drink, and it will settle in a single layer.
Strain into a glass and garnish. Strain the drink into a lowball glass. The traditional garnish is fresh mint and a lime wedge. Many Mai Tai drinks also have pineapple and cocktail cherries as a garnish, so we added that here too: just for kicks!
Hocus Pocus Goody Punch (mocktail)
Indulge in a mocktail punch that you're certain is brimming with magic. But there's no reason you need to tell your guests that. This recipe will yield approximately six servings.
You will need:
- 4 cups apple cider

- 3 cups Raspberry Rose Waku

- ¼ cup tart cherry juice

- Ice

- Lemon club soda to top off

- Black or Raspberries for garnish
How to prepare:
In a large pitcher or punch bowl, add ice, apple cider, cranberry juice, and cherry juice. Stir to mix. Top off with lemon club soda and serve in rocks glasses over fresh ice. Garnish with black or raspberries.