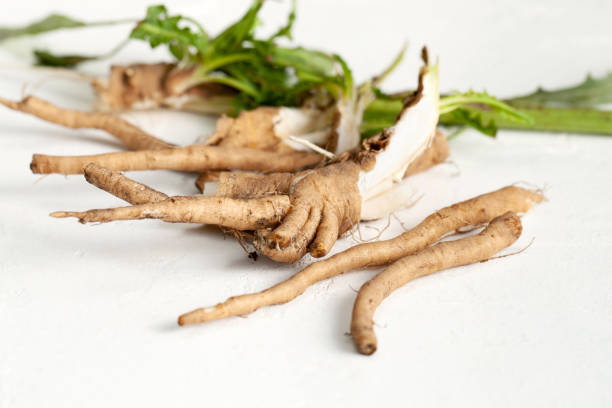 The Quali-tea of Chicory Root
Welcome to the Quali-tea Series! A space in our blog where we talk about one of the ingredients used to prepare our delicious herbal tea with prebiotic powers! On this occasion, we are going to introduce Chicory Root, which is actually one of the most important things in our blend. Why? Because it is from chicory root that we subtract the prebiotics that are used in Waku and that give that additional value no other tea has on the market: 6gr of prebiotic fiber, which is actually 25% of the daily fiber intake we should be consuming!

Take a look at this fun facts, uses and benefits of chicory root:
 


What is it?


Chicory is a plant. Its seeds, roots, and dried, above-ground parts are used to prepare medicine or on special blends. Chicory root (Chichorium intybus) is a rich source of a water-soluble fiber called inulin. Chicory inulin is not digestible and can be used to replace dietary fat or sugar in some processed and functional foods. Using inulin instead of sugar or fat can result in a lower-calorie food.

The roots are popular due to their high soluble fiber content, specifically, inulin. Inulin is a natural soluble dietary fiber: a type of fiber that dissolves in water, slowing down digestion, keeping you fuller longer, balancing blood sugar, and lowering cholesterol. Manufacturers extract inulin from natural sources to use as a functional fiber to increase fiber content of processed foods.




What are its benefits and nutritional facts?


Chicory root has a mild laxative effect, increases bile from the gallbladder, and decreases swelling and it is also a rich source of beta-carotene. One-half cup of 1-inch pieces of raw chicory root (45g) provides 32 calories, 0.6g of protein, 7.9g of carbohydrates, and 0.1g of fat. Chicory root is a good source of calcium, phosphorus, and folate.

It improves digestion: Dietary fiber, including that found in chicory, can be beneficial for the digestive system and help maintain regularity and reduce constipation.

Promotes a healthy gut microbiome and regular bowel movements while also reducing the risk of colon cancer: One study noted those who consumed an inulin supplement made from chicory root had an increase in stool frequency and softness.

Improves blood sugar regulation: Another benefit of inulin is blood sugar control. In a study conducted with women who had Type 2 diabetes, women who took inulin supplements experienced improved fasting blood sugar and increased antioxidant capacity.




How is it used or how could it be prepared?


When consumed as a food, chicory roots can be boiled and the leaves (endive), buds, and roots can be eaten like a vegetable.

Some also roast the root or buy roasted ground chicory root to use in coffee or alone as a coffee substitute. Most product labels advise dissolving two tablespoons of ground chicory coffee substitute in a cup of hot water or adding a smaller amount of chicory to your coffee.

Chicory root has an earthy or woody taste somewhat similar to coffee and contains no caffeine. It's the beverage of choice for some people who are trying to eliminate or reduce their coffee intake.




Adverse Effects
In the United States, inulin has attained Generally Recognized as Safe (GRAS) status by the FDA.7 This means that chicory is likely safe when consumed in amounts typically present in foods.

Chicory root is generally well tolerated when consumed by mouth. However, some people may experience symptoms including flatulence, belching, abdominal pains, intestinal sounds, and bloating. However, these effects are very unlikely if the chicory root is part of a blend or beverage.

Research has also not yet established the safety of chicory during pregnancy, so people who are pregnant may want to avoid consuming this vegetable or talk with their healthcare practitioner first.
References:
Chicory Root Nutrition Facts and Health Benefits 
Chicory - Uses, Side Effects, and More
What Is Chicory Root? The Fiber-Rich Food You're Seeing Everywhere